About Ebels Lock & Door Co.
Ebels Lock & Door Co. is a full service shop for commercial and residential clients. We are a family owned and operated business based in Orange County, CA. since 1998. We have also been involved in many commercial construction projects across three states.
We strive to provide unmatched service in a friendly and efficient manner. In addition to standard and custom locksmith services, we have over twenty five years experience in cost evaluation, and the supply and installation of doors and hardware. We also provide on-site door machining.
We develop and maintain multilevel master key systems for large commercial projects and for retail establishments. Our goal is that you are perfectly satisfied with the services we provide, or we will work with you until it meets your expectations.
Contractor #761083
BSIS* LCO #2599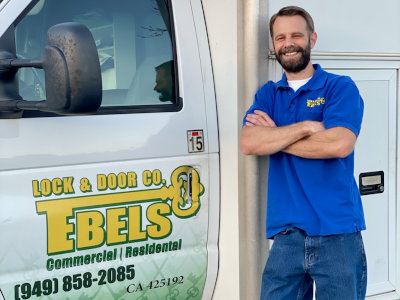 Why Ebel?
One of the great advantages of living and/or doing business in Orange County is the wealth of choice. When you ask yourself, "Why should I choose Ebel for my locksmith needs?" Because we're:
Experienced - Gained in over thirty years in the building trades

Local - Headquartered in Orange County for over 20 years

Licensed - Licensed and in good standing with the Bureau of Security & Investigative Services and a licensed contractor

Quality - We use materials best suited for your project requirements, such as grade one hardware for high traffic and high abuse situations. We can also value engineer your project to meet budget requirements.

Training - Ebels lock and Door technicians are trained to recognize and specify a builder's hardware requirements for door openings in all types of public, commercial and residential buildings keeping in compliance with current building codes.

Installed Right - We install all the products we supply according to manufacturers specifications and recommendations.